What should I do ?
This website answers the vital questions: What illness does your child have? How to treat your child? What to do in case of an accident? When should one see a paediatrician or go to an emergency centre? When can your child return to school? A great number of practical tips enables you to look after your sick or injured child.
The Paediatric Association of Geneva
Official Website
The Paediatric Association of Geneva or SGP is an association of independent paediatricians who practise in Geneva. All its members also belong to the Association of Medical Doctors of Geneva (AMG).
The paediatricians of the Paediatric Association of Geneva all hold the Federation of Swiss Medical Doctors' (Fœderatio Medicorum Helveticorum: FMH) certificate of paediatric training.
An app for parents
whose children need a medical consultation at the Paediatric Reception and Emergency Department (SAUP) of the HUG. InfoKids offers the following services:
Advice on how to deal with your child's symptoms. Real-time information on the congestion in the waiting room. Directions to the paediatric emergency room. The medical and nursing team is notified of the child's arrival. Real-time information about your child's place in the queue. An aftercare instruction sheet based on the illness or the trauma diagnosed during the paediatric emergency consultation.
The Swiss Paediatric Association
About SSP
The Swiss Paediatric Association is the official association of professionals in the field of child and adolescent medicine and the professional policy-setting body for all hospital and outpatient paediatricians in Switzerland, with the task of ensuring sufficient quality paediatric coverage in Switzerland. The paediatricians are committed to the health and development of children.
All children in Switzerland must be able to benefit from competent paediatric care.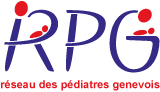 Jean-Sébastien Landry, President, route de Vernier 205, 1214 Vernier.