Geneva: telephone exchange for pediatric emergencies
(REISO 14.10.2021)



New telephone exchange - A single free number for pediatric emergencies
(Tribune de Genève 16.10.2021)



Geneva draws a positive assessment of its pediatric emergency center
(RTS 16.10.2021)



Monitoring health benefits in Geneva
(https://www.ge.ch/document/suivi-prestations-sante - June 2019)
(Document in french)

Suivi des prestations de santé à Genève
Focus
Chiffres clés
Données relatives à l'assurance maladie
Coûts et financement
Primes
Données relatives aux fournisseurs de prestations
Hôpitaux et cliniques
Médecins
Pharmacies
Soins à domicile
Etablissements médico-sociaux
Données relatives au financement de l'Etat
La lettre de l'association des médecins du canton de Genève
(La Lettre de l'AMGe - Avril 2019 - N° 3)

La lettre de l'AMGe
Agir sur la planification médicale
Cabinets de groupe et TVA
La nécessaire révolution de la planification sanitaire genevoise
...
Urgences pédiatriques
(Tribune de Genève | Samedi-dimanche 10-11 novembre 2018)
un accueil salvateur au quotidien

Après quarante ans d'existance, la garde de la Société de pédiatrie reste peu connue. Reportage d'Aurélie Toninato
Déjà 20 ans, mais toujours aussi innovants
(Pharma Journal | 4 | 2018)
Contrôle des coûts

Le Conseil fédéral, qui vient d'annoncer un vaste programme de maîtrise des coûts, veut des professionnels responsabilisés, innovants et soucieux de contrôler les coûts.
Les cercles de qualité médecins-pharmaciens, créés il y a 20 ans, sont plus que jamais d'actualité.
Young Children with Obesity
(Source : Maggio ABR, et al. J Family Med Prim Care Open Acc: JFOA-102 | 6 November 3017)
Evaluation of a Family-Based Group Therapy for Young Children with Obesity: A Pilot Study
Albane Bertha Rosa Maggio (1) - Corresponding author

Michelle Mugnier (1)
Lily Piaget (1)
Maude Bessat-Macchi (1, 2)
Xavier Martin (1)
Nathalie Farpour-Lambert (1, 2)
Virginie Desmangles (3)
Anne Romanowicz (3)
Jean-Sébastien Landry (3)
(1)

Department of Child and Adolescent, University of Geneva, Switzerland

(2)

Department of Community Medicine, University of Geneva, Switzerland

(3)

Geneva Pediatric Network, Switzerland
Family physicians : the humain dimension
(Document in french)
Anne Romanowicz : "Make family medicine more attractive"
Reto Guetg : "The human aspect is essential"
Armand Eichenberger : "You have to be broad-shouldered"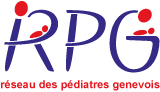 Jean-Sébastien Landry, President, route de Vernier 205, 1214 Vernier.